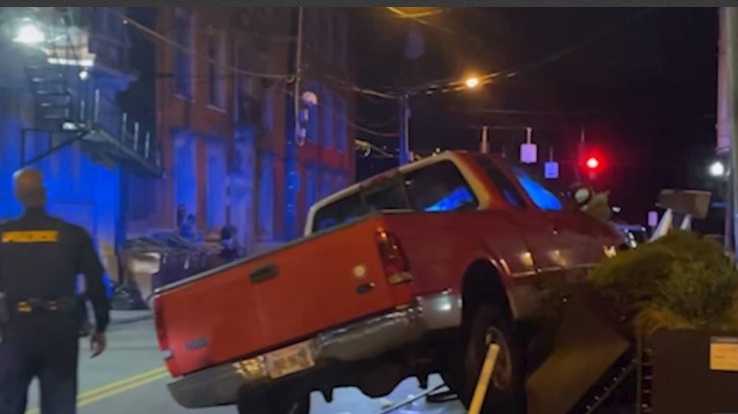 Truck crashes into Over-the-Rhine outdoor dining area, raising safety concerns
A truck slammed into an outdoor dining area in Over-the-Rhin on Wednesday evening, demolishing the structure and raising safety concerns. The space is known as the streeatery. The truck slammed into the one outside Sundry and Vice at 13thStreet and Republic Street. No one was on the street when he was hit. No one was hurt. The driver left on foot, but left the truck behind. "They're just a nice place to hang out and honestly, a little extra space is never the worst thing in the world," Ted Meyers said. Steateries often occupy part of the roadway and are located in former car parks. People have had few problems with them, and the latest accident doesn't change their minds much. However, many would like to see the area made safer for pedestrians and those on the streets. "You could get hit while walking down the street. You know, things happen all the time. People run into Kroger buildings. People come across, you know, stuff that's been lying around for 200 years," Dave Osterday said. "Maybe there are things to do to get more attention and more awareness, to make them a little bit safer, to slow down traffic, to get people's attention."
A truck slammed into an outdoor dining area in Over-the-Rhin on Wednesday evening, demolishing the structure and raising safety concerns.
The space is known as the treatery. The truck crashed into the one outside Divers and Vice at 13eRue and Rue de la République.
No one was on the street when he was hit. No one was hurt.
The driver left on foot, but left the truck behind.
Steateries started popping up during COVID-19, but have remained a way for restaurants and bars to expand space.
"They're just a nice place to hang out and honestly, a little extra space is never the worst thing in the world," Ted Meyers said.
Steateries often occupy part of the roadway and are located in former car parks. People have had few problems with them, and the latest crash doesn't change their minds much.
However, many would like to see the area made safer for pedestrians and those on the streets.
"You could get hit while walking down the street. You know, things happen all the time. People run into Kroger buildings. People come across, you know, stuff that's been lying around for 200 years," Dave Osterday said. "Maybe there are things to do to get more attention and more awareness, to make them a little bit safer, to slow down traffic, to get people's attention."