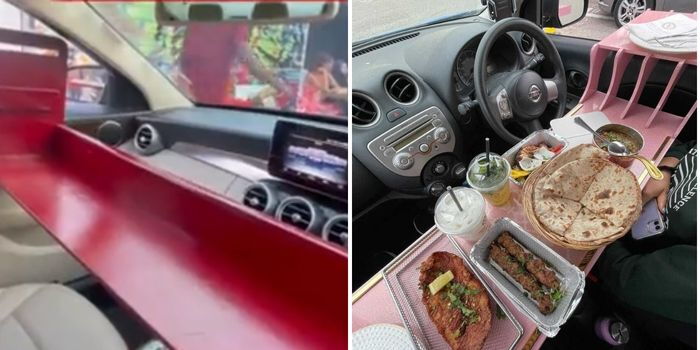 The popular global trend of installing a dining area inside a car reaches Kenya
A popular global trend of fitting a complete dining area inside a car has reached Kenyan markets.
With the growing need, restaurateurs have been forced to develop a drive-in dining experience with a full setup similar to five-star hotels.
The new trend, which has hit parts of the country including Mombasa, is to serve food to travelers inside their vehicles, thereby mitigating health risks when eating in public spaces.
A long plank of wood replacing a table runs through the driver's window to the passenger side.
File photo of a motorist enjoying a meal inside a car.
Case
The waiters then place the food on the wooden board, improvised to look like modern tables with all the accessories.
The food is then served on specially designed elongated trays that fit in the car. The wooden trays and planks fit seamlessly into the vehicle, allowing passengers to comfortably roll up the windows and turn on the air conditioning.
The hype, which is changing the shape of the dining experience in the country and even creating more job opportunities, started after a Qatar-based blogger, Foodie Shamsi, went viral by featuring a table set up at inside the car.
Videos shared online showed the trend being replicated in London as well. Diners have adopted the idea from drive-ins popular around the world where motorists drive past a restaurant and order food which is delivered almost immediately.
The drive-in dining experience was popular in the early 2000s, but with time limits and traffic laws, it became banned in some countries.
Some cafes in Kenya even host Park and Chill events with the drive-in dining experience to educate and screen the Kenyan market.
The main challenge they face is parking space which has hampered the expansion of the drive-in dining experience in the country.
Photo collage of a restaurant installed in a car and a driver and passenger eating inside a car.
Case