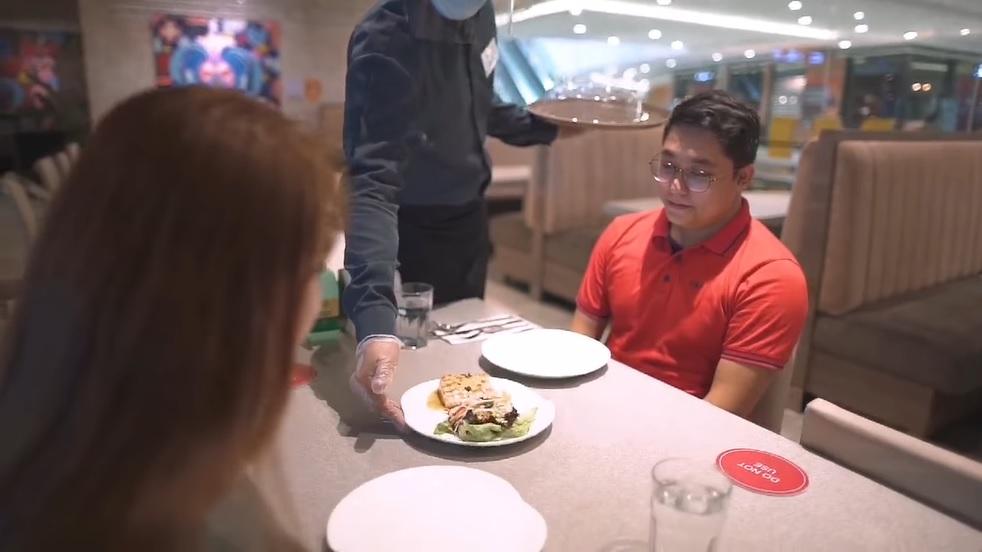 Restaurants in the new normal: Dining room divers, contactless reservations and more
The Interagency Task Force (IATF) on Thursday approved partial catering services for restaurants in GCQ areas starting June 15.
According to Commerce Secretary Ramon Lopez, restaurants can resume catering operations at 30% capacity – in addition to other health protocols restaurants must adhere to, including frequent disinfection, wearing of face masks and social distancing .
In an interview with Unang Balita on Monday, DTI Under Secretary Boy Vizmonte said authorities would conduct random inspections at restaurants to ensure safety protocols are in place and enforced. "Hindi naman para manghuli, pero gusto i-tama kasi an hangad ngayong panahon na ito is Hindi pag-iningat kundi makapagbukas ulit ng hanap-buhay."
He clarified that when a family in a household gathers for dinner in a restaurant, they will always have to respect social distancing. "Sa grupo, wag ipunin yung table para magkasama-sama. Hayaan natin yung set-up na hiwa-hiwalay," Vizmonte said.
As such, we asked a few restaurateurs how they planned to resume their activities.
All have pledged a strict implementation of social distancing, with staff wearing clean uniforms and PPE at all times. Restaurants are strict with a no-mask and entry policy, requiring customers to undergo thermo-scans on entry and complete a health declaration form.
Take-out and delivery will continue to play an important role in catering businesses
"Certainly, we place a lot of emphasis on delivery and take-out as we do now, and even before COVID," said Paul Manuud, president and COO of The Bistro Group (TGIFridays, Dennys , Italiannis).
Some of their steps include creating special menus for the category, bold promotions and contactless payments, he adds.
Pino Concepts agrees. "Our restaurants have focused on deliveries via popular couriers, as they deliver all over town," said PJ Lanot, co-owner of Pino Group of Concepts (Pino Restaurant, Pipino and Breakfast and Pies). He adds that their operations include managing personal pickups for advanced orders as well as take out for drop-in orders.
The Moment group (Manam, 8cuts, Din Tai Fung, Ooma, Mo Cookies, Mess Hall) "focuses on meeting guests where they are and letting them know that they can safely host Moment at them, "said Abba Napa, co-founder of The Moment Group.
Apart from the launch Moment Food, a site that can take orders for deliveries, Moment has also invested in an internal delivery fleet that promises same day delivery, in addition to being present on delivery applications such as GrabFood, food panda and LalaFood.
Contactless and disposable
In his video, Vikings showed what their sought-after buffets will look like in the new normal, and instead of queuing for food, customers will have to order using disposable forms. But before they can enter their facilities, customers will need to complete a mobile health declaration form.
The Moment Group seeks a "safe, transparent and contactless dining experience". The group is exploring contactless reservations through a mobile platform, contactless ordering, seating, payment and even electronic receipts.
Bistro, meanwhile, is also considering having disposable menus and contactless payments.
Lanot says the Pino Group encourages customers to book and order in advance through landline, messaging apps or even through social media to help them "manage seats, foot traffic, inventory and workforce "as well as making digital payments via a myriad of ways (GCash, QR Codes or bank transfers).
Dining room dividers, timed services, PPES, and more
"Moment stores are currently equipped with additional tools such as dining room dividers and provide personal protective equipment and safety and hygiene kits for our team members," Napa said.
For the Vikings, glass screens will be installed not in the dining room but at the buffet stations.
In addition to providing customers with "the ability to use 100% disposable but biodegradable plates, cups and utensils," Pino will also implement scheduled services. "We will have brunch from 10 a.m. to 11:30 a.m., lunch from 12 p.m. to 230 p.m., the merienda from 3 p.m. to 5:30 p.m. and dinner from 6 p.m. to 8:30 p.m."
Staff safety is the safety of guests
"It all starts with taking care of our team members, delivery partners and guests. Their safety and needs will guide how we serve everyone right now," Napa said. In addition to enhanced safety measures – PPE, social distancing, frequent hand washing, and regular sanitation and disinfection – Moment restaurants now have an assigned food safety waiter and runner, "who is the only one authorized to perform health-related tasks. feed and do no other than these tasks. "
The Pino Group will require their staff to have different sets of clothing when entering and leaving restaurants. "We have also housed some of our employees so that we can control their environment, and we are in constant communication with the managers of our employees who take a five-minute walk from their common barangay to our location," added Lanot.
Pino will have a "new ordering, payment and order pickup station, so our staff can practice social distancing with the customer, and vice versa. No more waiter service," Lanot continued.
No big parties for now
Bistro restaurants do not accept large groups. "We will strictly adhere to the protocols," Manuud said. "No large groups, six meters apart per person, frequent sanitation of tables and chairs. The cleanliness and safety of our customers and team members will be expected at all times."
Pino meanwhile "can only handle a maximum of 15 people at a time". It will follow DTI recommendations, such as allowing two people to sit at a four-seater table, no face-to-face seating regardless of the relationship, like what an Iloilo restaurant already does, and more. – LA, GMA News