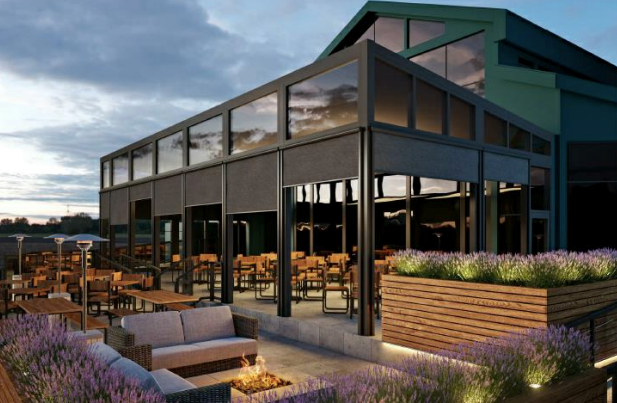 Gillnetter Pub in Port Coquitlam expands its dining room
[ad_1]
More al fresco dining opportunities are being considered as the Port Coquitlam pub grapples with the changing restaurant market; Pub aims to turn its alcohol-only seats more into dining tables
A Port Coquitlam pub located on the Mary Hill Bypass has plans for a renovation that will add more restaurant seating and update a patio to take in the views of the Pitt River.
On Tuesday, the board will be asked to approve plans that would add 47 seats to the facility, for a total of 187, and create a seating area with outdoor fireplaces as well as additional dining space.
The Gillnetter pub has 118 seats for alcohol and 22 for food (restaurant) for a total of 140 seats and includes a small alcohol retail outlet. The proposed renovation will add 47 new seats but also proposes to redistribute those seats to 29 alcohol primaries and 158 food primaries for a total of 187 seats, creating a larger dining area.
The pub owners also want to build a 427 square foot addition to expand the kitchen and kitchen storage; replace the existing partially enclosed outdoor patio with an updated enclosure; add furniture and fireplaces to the open section of the existing patio; add an enclosure to better filter waste and recycling storage and improve the landscaping of the parking area with additional trees and shrubs.
"The proposed update to the outdoor seating area also responds to the restaurant's changing environment, providing greater opportunities for al fresco dining. The proposed kitchen and patio renovation will also address outstanding building code concerns at the site. Staff recommend approval, "said a report to Port Coquitlam council in committee.
The report also notes that more parking is required than permitted by the by-law, 57 against 48, and that a sign posted regarding the application for a development permit has prompted complaints about the noise generated by the company, including including night / early morning garbage and recycling collection.
In response, the pub switches to recycling and garbage collection after 8 a.m. and staff at Gillnetter have been instructed to minimize late night noise.
[ad_2]