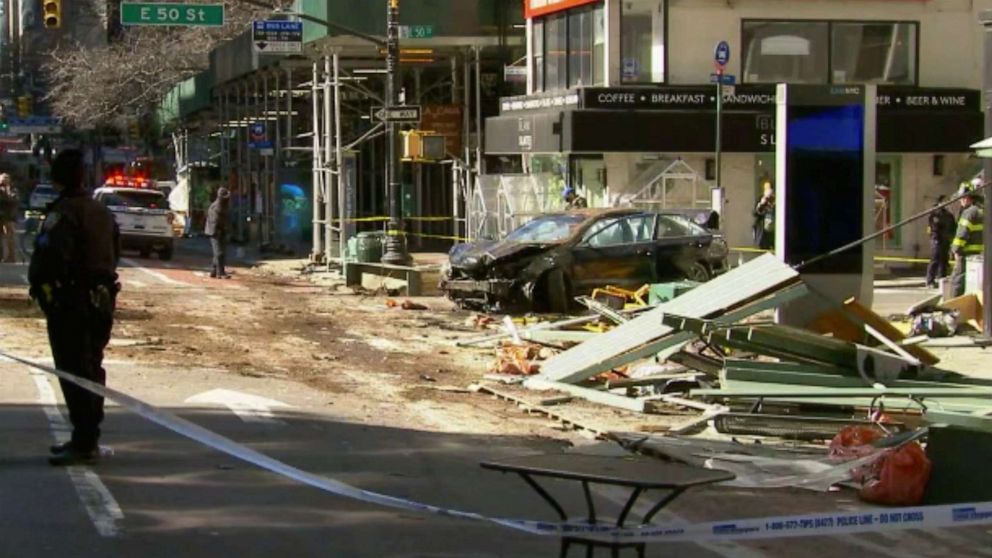 Crash sends car to Manhattan outdoor dining area, 8 injured: officials
The dining hall was unoccupied but the debris and the impact injured several people.
A collision sent a car slamming into an outdoor dining area in New York on Friday morning, throwing debris and injuring eight people, officials said.
Just after 8:30 a.m. in Midtown Manhattan, a man driving a white pickup truck collided with the back of a Toyota Camry, sending the Camry plowing into an outdoor dining area, which was unoccupied, officials said. law enforcement.
The white van then drove another block before coming to rest in scaffolding, law enforcement said.
Flying debris from the outdoor dining area struck a 5-year-old boy and a 7-year-old boy, law enforcement said.
Six adults were injured, including pedestrians and some people who were in the Camry, law enforcement said.
The 66-year-old driver of the van was taken to a neighborhood where he had a medical episode, law enforcement said. He has since been taken to hospital.
The sidewalk shed was damaged by the crash but did not collapse, the Buildings Ministry said. The building was untouched and suffered no damage, they said.